In my previous article, I showed a model I created that identifies the difference between being a leader and a manager.  Here it is: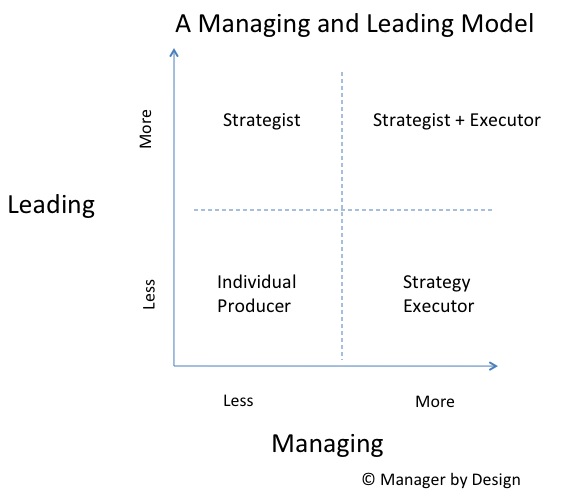 In this model, the manager that I typically think of when writing about managers is in the lower right corner – a manager who is a "Strategy Executor."  The organization that the manager works for has a strategy, and the manager makes sure that this strategy is executed.   This manager typically has a team of people in some capacity (either direct reports, virtual, outsourced vendor) to make sure the strategy is executed.
As an example, if you are a Training Manager, then the strategy is that the organization is using "Training" as a means to help the organization run better.  "Training" is the Strategy, and the Training Manager is needed to execute that strategy.
So the training manager has to make sure the training is executed.  That means there needs to be budget, a team of people and facilities to get this done somehow. That's the manager's job – use these resources to execute the "Training" Strategy.
But how does one become a strategy executor, a.k.a., manager?  There are various paths.
The most commonly thought of path is the following:
Someone is really good at being an individual producer, and the manager role opens up, and they get the job as the manager.  That individual producer is now the strategy executor.  Here's how it looks on the model: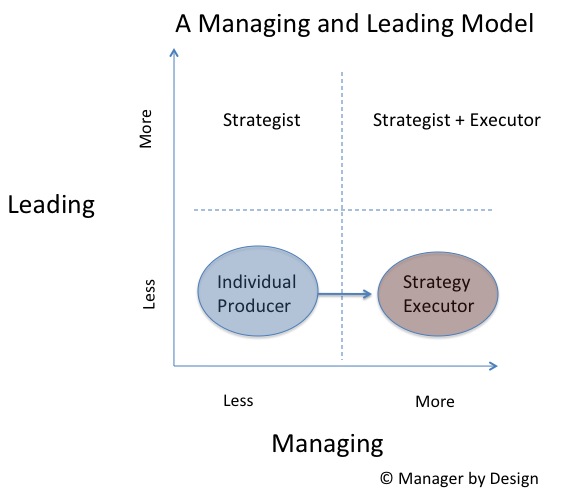 This seems to fit in the popular conception of how people become managers, but under this model, you can see a potential design flaw.  The person becomes a manager without having been involved with the strategy development.  In the case of the Training Manager, the strategy executor will be executing the "Training Strategy" without really knowing what went into the development of that strategy.