In my previous article, I discussed a common mistake managers make:  They evaluate the "interactions with the boss" performance, and not the "doing your job performance."  So an employee can go through an entire year and not receive performance feedback on the work he was ostensibly hired to do, but receive lots of performance feedback on how he interacts with his boss.
Given this concept of receiving feedback on the job performance vs. receiving feedback on the "in front of the boss" performance, let's create a model to help managers get closer to the actual performance of an individual, and where the performance feedback needs to be.
Here is a grid that looks at various elements that employees commonly receive "performance feedback" on.  I put these elements into boxes along the "what/how" grid, with the most relevant to job performance being toward the lower left, and the least relevant up and to the right.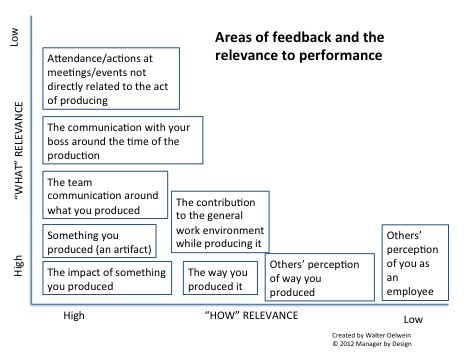 In looking at this grid, you can see that what is most relevant is the impact of something produced, with the next most relevant elements being the actual thing you produced, and the way you produced it.  Finally, the contribution to the general environment and the communication around the thing produced is the next most relevant element.  The closer to the lower left, the closer it is it performance.