Many managers botch the annual review process. There's this persistent idea out there that the manager needs to provide "one good thing, one bad thing" on an annual performance review.  However unlikely it is that the employee does an equal amount of damage as good over the course of the year, this model seems to persist.  Many times, managers will actually go fishing for incidents that are bad.  They'll try to find those moments where the employee said something wrong, missed a step, or caused friction on the team.  The manager will fastidiously wait for the annual review and then spring it upon the employee – Aha!  You did this bad thing during the year!  And I get to cite it on the review.
Well no more of that!
I propose the sympathetic model of performance feedback.  In the sympathetic model, the manager looks at both the individual and the system in determining what the employee ought to have done differently (if anything) and what ought to be done differently in the future.
Here is the sympathetic model: (Click for larger image)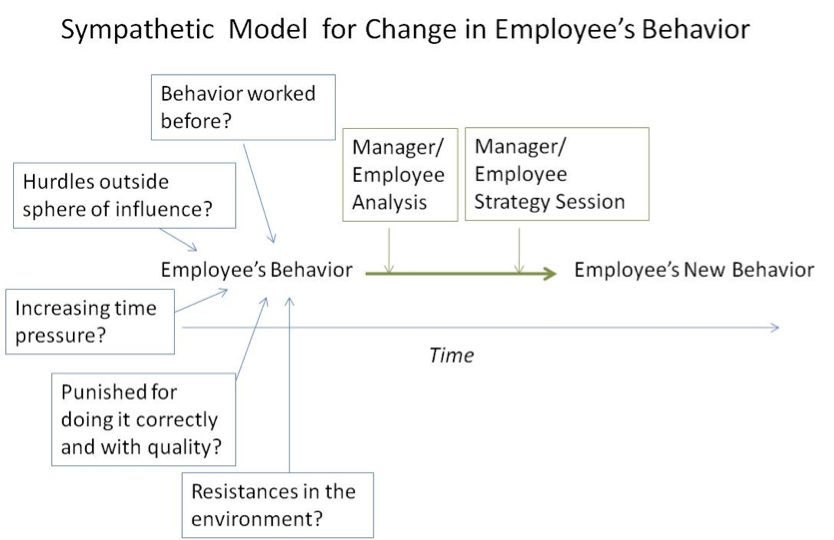 When you look at an employee's actions this way, you can see that there may be some greater forces that went into the employee's behavior.  So instead of using a bad incident to cite what is wrong with the employee, the sympathetic model asks that managers engage in analysis and discussion with the employee to figure out what drove the behavior.   Then the manager and the employee strategize on what to do next, and what should be done in the future.